I should probably change this to just Each way sniping since that is all we are doing at the moment!
I have been diligently working on my Each Way (EW) sniping each day last month and only stopped the last week so I could concentrate on my reselling project that I had fallen a bit behind with! Mr Fire didn't get a chance to do any since he is now based over two sites for his day job and neither one of them is particularly close.
The actual numbers
I tracked it last month as promised since my little mishap last time!
| | | |
| --- | --- | --- |
| Month | Total bet £ | Total Profit/(Loss) |
| Jun | £123.60 | £107.38 |
Woo Hoo! An easy profit really. I fully intended to share a complete breakdown of how many bets i put on ect… but my spreadsheet has gone a bit crazy.I'm still only putting £2 down each way (£4 in total) for each bet so its small change really.
I'm really sad and I EW whilst doing other office type stuff such as sorting out school documents, filling and helping out Mr Fire's buy to let family business so I really am making money on the side.
Seems like the EW matcher on Oddsmoney is paying for itself practically now! there is no way we could do Each Way Sniping without it!
The infamous Firestarter now has his guide so check that out! I'll be following his guidance for sure.
Don't forget if your interested in trying some Matched Betting, then I highly recommend Oddsmonkey. (affiliate link) We couldn't make any money without it! I also have a handy referral link if you would be so kind as to use it.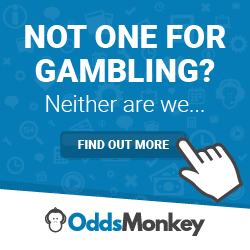 I also recommend Smarkets and with this handy little link you get a free £10 bonus!
How is your Matched Betting going? Have you tried Each Way Sniping?